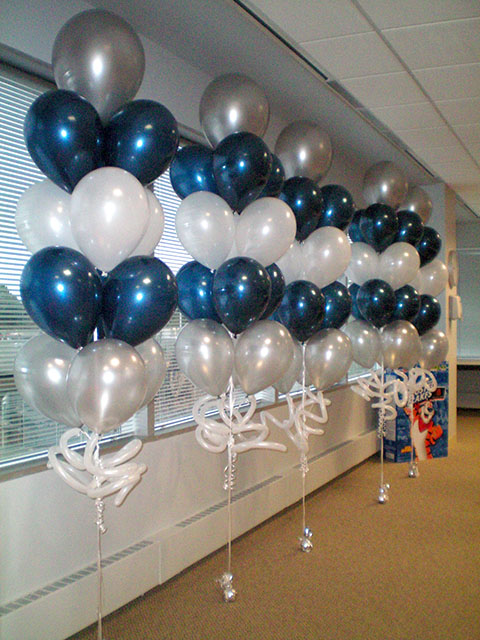 Tops in Toronto Balloons. Spectacular balloon decorations, balloon bouquets, balloon decor
for parties, wedding or corporate functions.

Balloons are perfect for every event.
Call us at 416-224-2221 for customized
balloon decorations or a balloon bouquet
for someone special.
We deliver balloon gifts and create balloon decorations and decor for parties and special events. Balloon delivery to all of the greater Toronto area.

Toronto's #1 Source for Balloons, Decorations, Decor, Party Supplies and Advertising Balloon Printing.
---

Balloon Bouquets
We deliver anywhere in Toronto and the surrounding areas and we offer same-day service. All of our balloon bouquets are custom made.
One of our most popular gift items, balloon bouquets are ideal alternatives to flowers. They include:
One 20″ Foil Balloon (Mylar)..with special message
A dozen Latex Assorted Balloons (Printed & Solid)
One Gift Bag Containing Hershey Kisses, Caramels, Etc.
One Exploding Balloon with a Message Inside
Prices range from $75 and up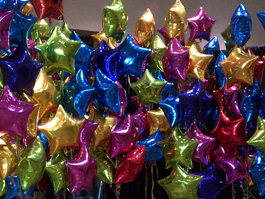 Balloon Celebrations is your complete balloon gift source for all special occasions, including birthdays, employee recognition, customer appreciation, or expressing good wishes. We provide spectacular balloon decorations.
Services Offered:
Balloon Bouquets
Custom Balloon Imprinting
Balloon Telegrams/Deliveries
Balloon Decor for all Occasions
Ceiling Treatments
Balloon Backdrops
Balloon Centerpieces
Balloon Promotions
Call Today to Have Us Customize Your Balloon Bouquet Arrangement, Balloon Party Decor, or Balloon Promotion. We also offer imprinting on balloons.
Balloon Celebrations has been providing innovative balloon decoration services for events of all sizes for over 20 years.
From parties and graduations to weddings and corporate events, our creative team will come up with ideas that will be sure to enhance the mood and decor of your event.
Whether you require swirling balloon arches, ceiling decor, creative balloon centerpieces, dance floor decor, balloon printing… we deliver the balloons to bring your event to life. If you have a particular theme in mind for your special event, our designers will be more than happy to discuss your ideas. Some of our balloon decor themes include the following:
Rock and Roll
Hawaiian/Tropical
Hollywood
Disney
Sports
mardi gras
disco
under the sea

We will work closely with you to ensure that every last decorating detail is attended to. Our balloon prices are very competitive!
Call today for a personal balloon design consultation!
Great prices, great service, great ideas!

Call (416) 224-2221 and we'll work with you to create the perfect balloon design.
Balloon Delivery to Toronto and the Surrounding Areas including North York, Vaughn, Thornhill, Scarborough, Mississauga
Balloon Celebrations – Toronto's #1 Source for Balloons, Balloon Decor,
Balloon Bouquets & Party Decorating and Supplies
777 Bay Street
Toronto, Ontario
M5G 2C8
(905) 303-3998
Hours: Monday – Sunday 9 a.m. to 6 p.m.